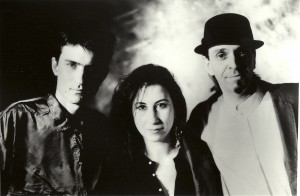 Barba Yiorgi remembers THE SAQQARA DOGS and Annabouboula's origins… PART 1 The Making Of "HAMAM"
In 1985 lower Manhattan was bubbling over with underground music of every description. The low-rent, post-Punk art and music scenes that had evolved over the prior five or so years were bearing fruit in unpredictable and surprising ways. I was playing guitar and bass with a band called Cargo Cult led by singer-songwriter Randy Ludacer. Randy had steered his songwriting in the direction of Brazilian and Latin rhythm (way ahead of his time, but that's another story) and in a bid for post-New Wave novelty had replaced standard rock drums with congas and dumbek played by an energetic and acerbic transplanted midwesterner named Hearn Gadbois. That suited me just fine; I had always been a maniac for non-English language music. In those days I would haunt the African bin of Soho Music Gallery -at the time the only place you could find stuff like the Kawere Brothers Band from Kenya or Empire Bakuba from Congo… but my real dream was to figure out a way to adapt the Greek folk and pop music I had grown up with to work in the rock idioms I was playing. This was what I confessed to Hearn one day when he visited and I played some field recordings of old Greek village musicians playing half-forgotton rembetika dirges.
Not too long after that, as a Cargo Cult rehearsal wound down, Hearn took me aside. "You should know that I've gotten involved in something that's right up yer alley – some producer is making demos of old Greek music with this Greek singer and the plan is to record it here but put it out in Greece… you need to meet this guy". It sounded completely bizarre. Nonetheless, a few nights later, at an East Village club we often performed at called 8BC, (on 8th between B and C, in case you're wondering) I was introduced to the one and only Chris Lawrence, half-Greek anthropologist-turned-record producer. Chris and I hit it off immediately; amazingly, I had found someone with my exact musical sensibility and taste regarding how to deal with Greek music in the modern world. Like me, he spoke Greek, had spent time there (had been living there for a few years in fact) and was obsessed with the more exotic and "eastern" sounding varieties of that complicated country's traditions. And better yet, he was actually producing a record… with a real singer… and was already 3 or so songs into the sessions with Hearn and a few other non-Greek musicians. The deal was, now he wanted to get the musicians to work up some new version of an old belly-dance style bouzouki number called Mes Tis Polis To Hamam and I could join the process. I dove in and never looked back- this was the music project I'd been waiting for my whole life.
I soon caught up with what Chris had already accomplished. To begin with, dreaming up the idea to revolutionize Greek pop music, Chris had come up with "anna bouboula" as a name for a singer that would be a pun on the expression "annabouboula" which means a mixed-up mess, or a confusing noisy scene, like a "brou-ha-ha". In a stroke of incredible luck he then discovered a singer at an Astoria Queens night club who was willing to join the project – and she was named Anna! In fact Anna Paidoussi, a Greek American girl originally from New Jersey, had trained as an operatic soprano, but hanging out in Greece she had fallen in with a crowd heavily involved in what's called  "entekhno" or "art music", a genre roughly analogous to the Jacque Brel/ smoky-intellectual-confessional cabaret or Parisian "boite" coffee house tradition. This was the sort of music she was performing when Chris met her; of course she was aware of the more "down-and-dirty" rembetiko stuff Chris was into, but it was a stretch for her stylistically. In the early demos (one of which,"The American", would make it on to the 1st Annabouboula LP) you can hear her earliest attempts at adapting her powerful pipes to the hashish-den lyrics:
Here's the original ballad "The American" from 1936 sung by Stella Voyiadzis:
Chris had assembled a nifty group of downtown musicians to back up Anna. Besides Hearn there were two similarly unique and somewhat intimidating characters: another Chris – Chris Cunningham – who played the Chapman Stick, in a busy style that at times sounded like sub-harmonic Larry Graham slap-and-pop bass, at other times like a keening, microtonal fretless; and Bond Bergland, a guitarist who was fresh from San Francisco where he had played in a legendary early "industrial" post-punk outfit called Factrix (lauded by Julian Cope here). Bond used "Frippertronic"-sounding delay and distortion to create sheets of Hendrix-inspired psychedelia; on top of Cunningham the effect was otherworldly. This was the nucleus of what would soon become The Saqqara Dogs. All three of these guys, like me, were proto-"World Music" junkies; Bond, I would learn, was writing material inspired by the same Pennywhistlers Balkan folk LP that I treasured… What could I possibly add to all this?, I wondered.
Chris Lawrence played the inspiration for his idea, the 1935 Anestos Delias recording of "The Harem In The Bathhouse" for Bond, who proclaimed it one of the most psychedelic pieces of music he'd ever heard:
It turned out that the prime mover in creating "Hamam", the recording that would really launch the act, would be Hearn. A few days before we were scheduled to rehearse the number all together, he called me up and told me he wanted to try playing a Washington D.C. "Go-Go" R&B groove on the dumbek.
Like this:
I was accustomed to his cross-cultural experiments- this was exactly what we were doing in Cargo Cult. He suggested I play Jimmy Nolen-style "chicken-picking" (our expression) guitar licks over his groove – again, something we had been doing already. When I dutifully showed up at the rehearsal, I was astonished to hear what Bond and Cunningham had come up with to go with Hearn's "Chuck Brown-in-the-sultan's-seraglio" rhythm. Bond had composed a swooping, unforgettable Hendrix-like sustained melody over Cunningham's almost impossibly funky low riffs. Anna gamely sang Chris Lawrence's new Greek lyrics, which cleverly and whimsically referenced some of the original song (if you know Greek- you'd get the jokes). Then someone- I don't remember if it was Bond, Anna or someone else – suggested that Anna use her Opera Powers to try to sing Bond's soaring intro melody in unison with his guitar. It was like the X-Men had landed in Greece; a bunch of mutants from Neptune playing something that was sort of like Greek music…
Eventually the recording was made, Hearn adding congas on top of the dumbek to create an irresistible groove, locked with the Stick and my guitar. Some weeks went by, and I went back to my work with Cargo Cult as I waited to see where Annabouboula would lead.
At some point in what by then must have been around Spring 1986, the first ever Annabouboula gig took place at a special event at NY club Limelight, curated by performance space The Kitchen; Bond, Chris Cunningham and Hearn performed, I believe under their new name The Saqqara Dogs, with Anna as guest vocalist billed as "Anna Bouboula"; I joined them on stage for "Hamam". The response was positive, but nonetheless The Saqqara Dogs had decided to keep their new act separate from Annabouboula; Chris Lawrence and Anna would have to continue the project without them. I wasn't sure yet where I fit into the picture, but the band I played in, Cargo Cult, was recording an album, and I had plenty to work on.
The amazing music the Saqqara Dogs ended up making in the months following that gig at Limelight is in some ways a Path Not Taken by Annabouboula..
Kind of like if the Dorians, when they were on their way south to found Hellas, had kept traveling across the Aegean and wound up in Egypt…
Check out their classic "Greenwich Mean Time" featuring the visual imagery of "Fourth Dog" Ruby Ray…
Although Anna had lost her backing band, Chris Lawrence still wanted to get the Annabouboula demos released in Greece. He had some reservations about Chris Cunningham's first mix of "Hamam"; he felt it needed a more arresting sound worthy of its exotic blend of influences. To that end he had enlisted Swiss drummer and record producer Roli Mossiman (ex-Swans) to put his unique re-mixing and editing skills to work, using delays and mutes to build a new arrangement emphasizing the recording's spacy, psychedelic qualities as well as its funky rhythm.
Armed with this "Swiss Mix", later in 1986 Chris went to Greece to shop Annabouboula to the record company honchos of Bouzouki Land. In short order he was turned down by everyone except for the "John Peel of Greece", rock deejay-turned Virgin Greece A&R man Giannis Petrides, who heard in Lawrence's demos a kind of avant-weirdness that might get international attention for his back-water subsidiary of a major label. He agreed to release a 45 rpm "maxi-single" to include Hamam (Swiss Mix) and two other tunes from the Saqqara sessions,  "The American" and "Voodoo" (a Saqqara Dogs original sung by Anna), as well as Chris Cunnigham's original mix of Hamam. Petrides hoped the release might get the attention of Virgin labels elsewhere in Europe; as a sign of good faith Chris Lawrence was able to score an advance that amounted to about $700.00 – barely a third of what had already spent on recording.
In early '87, Lawrence imported a bunch of copies of the Virgin Greece 12" maxi-single "Hamam" or as it would appear in the transcribed "Greeklish" sticky labels stuck on the cover, "XAMAM". The cover alone, with its bizarre yellow-and-blue Greek graphics and a pair of female eyes (cribbed from a Cyndi Lauper poster as it turned out) was a guaranteed underground deejay attention-grabber, but the sounds on the vinyl are what garnered a genuine response. The operatic exoticism of Anna backed by Saqqara Dogs, with the grooves that Hearn and I had worked out, propelled by Roli Mosiman's savvy edits, was tailor-made for late-80s post-New Wave "dance-oriented rock" clubs in a musical landscape that had not yet split into competing genres. From his Hell's Kitchen apartment in NYC, Chris mailed the maxi-single to club and radio deejays all over North America, and worked his connections. The record rose up the charts of Rockpool, the bible of the '80s "dance-oriented rock" club scene. On the radio, boosters included New York  deejays Dan "The Immigrant" Behrman of WFMU, (who also promoted Saqqara Dogs) and Delphine Blue of WBAI.  Respected Dance music maven Brian Chin noted in Billboard  "[it's] offbeat, mood-setting… already a thumbs-up with some rock DJs. Walk like a Mediterranean?"
Suddenly, fledgling '80s music entrepreneur Chris Lawrence had bona fide "buzz" and a turntable hit on his hands… but there was no act! … just a speculative record deal in Europe; a Greek American opera-turned-cabaret singer; and me – a Greek American rock guitarist with a small home-recording setup and a burgeoning interest in synths and MIDI…